"Our toolkit includes engaging, supplementary activities to foster critical thinking, creativity, responsibility, and independence in a foreign language or ESL classroom."

on September 21, 2014

I teach French 8th through 12th grade. This has to be the most hands on, practical teaching tool, I have seen in a long time. It is indeed very student centered and project oriented. It includes rubrics with each project. It s a great investment. It is a great inspiration on days when as a teacher I just run out of fun ideas to ignite my students' attention. Definitely 5 stars.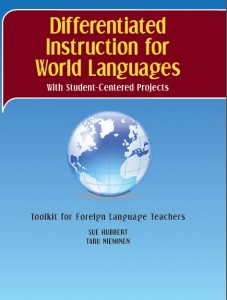 Dear Fellow Teacher,
As classroom teachers, our greatest frustrations are:
Too many things to do and too little time in which to do them
The preparation of lessons and assignments
Evaluation of completed assignments
"Active" students
Motivating students to work and to do their best work
Differentiated Instruction and Project-Based instruction offers the greatest success in creating engaged students with minimal effort on your part. Let the students do the work!
It is never "busy" work! Differentiated Instruction and Project-Based learning consider the students' individual and cultural learning styles with effective and challenging activities.
The purpose of our book is to show teachers how to differentiate instruction for their foreign language learners in innovative and interesting ways.
Please feel free to try any of the activities in your classrooms. We are certain your students will have fun with the lessons while learning the required content.
Our Book:
Facilitates the inclusion of standards into the teachers' lesson plans
Provides teacher tips for activities which spark critical and innovative thinking
Generates independent thinkers
Allows students to make integral decisions to achieve project success
Builds on the Three Modes of Communication and independent study
Provides different language situations through realistic interactions
We invite you to contact us via email or through our website for any questions you might have.
• Teaching tips included with each section!
• Aligned to national standards- each activity coded for easy transition into your lesson plans!
• An assessment rubric is provided with each activity sheet- grading is a snap!
• Each unit contains supplementary projects to create and nurture an exciting learning environment for your world language or ESL learners!
We hope you and your students enjoy these lessons as much as we do!
Sincerely, Sue Hubbert and Taru Nieminen
Both books are available as an instant download: Visit our Store!
Order a BOUND COPY on Amazon.com or TpT.com
Simply fill out your name and verify your email address to receive our free World Languages Toolkit preview.
Simply fill out your name and verify your email address to receive our free ESL Toolkit preview.