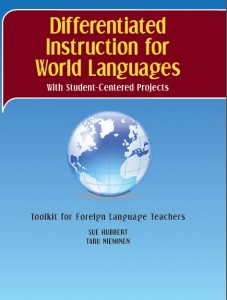 Yes, you can get our fabulous book for FREE for a limited time!
Just pay Shipping and Handling $15.95!    (Reg. Price $39.00!)
Please NOTE: International orders will receive a downloadable PDF. Make sure to include your e-mail address! 🙂
Read what teachers are saying about our book:
"On a scale of one to ten in terms of ease of use, practicality, and creativity, I would definitely rate this book a ten." -Kim S., Toronto, Canada
"You have identified four solid structures for providing students with project-based choice menus and many of the full-fledged and mini-projects are excellent."  -Kenny Short, Seattle, WA
"Such a great collection of ready-made differentiation plans for most foreign language units! Thank you!" – Senorita Waldo
"…I'm SO excited about this book! Reproducible and such an awesome supplementary resource! Muchas gracias! :)" – Jennifer B., Michigan
"Muchas gracias. Llevo buscando algo asi desde hace tiempo." -Ramon L.
Excellent investment, ready to use world language toolkit.
on September 21, 2014
Format: PaperbackVerified Purchase
I teach French 8th through 12th grade. This has to be the most hands on, practical teaching tool, I have seen in a long time. It is indeed very student centered and project oriented. It includes rubrics with each project. It s a great investment. It is a great inspiration on days when as a teacher I just run out of fun ideas to ignite my students' attention. Definitely 5 stars.
Sincerely,
Taru and Sue
Want to take a peek before purchasing? We understand. Here are links to both our books. Enjoy.
Simply fill out your name and verify your email address to receive our free World Languages Toolkit preview.
Simply fill out your name and verify your email address to receive our free ESL Toolkit preview.