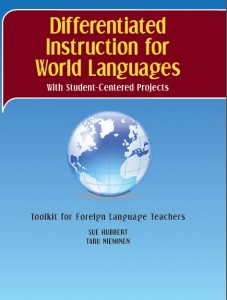 Yes, you can get our fabulous book for FREE for a limited time!
Just pay Shipping and Handling $15.95!    (Reg. Price $39.00!)
Please NOTE: International orders will receive a downloadable PDF. Make sure to include your e-mail address! 🙂
Wow! Yes, we know – you might think we're silly, but we truly want as many teachers and students to benefit from our toolkit as possible.
Read what teachers are saying about our book:
"On a scale of one to ten in terms of ease of use, practicality, and creativity, I would definitely rate this book a ten." -Kim S., Toronto, Canada
"You have identified four solid structures for providing students with project-based choice menus and many of the full-fledged and mini-projects are excellent."  -Kenny Short, Seattle, WA
"Such a great collection of ready-made differentiation plans for most foreign language units! Thank you!" – Senorita Waldo
"…I'm SO excited about this book! Reproducible and such an awesome supplementary resource! Muchas gracias! :)" – Jennifer B., Michigan
"Muchas gracias. Llevo buscando algo asi desde hace tiempo." -Ramon L.
Sincerely,
Taru and Sue